Aluminum is widely popular among architects and homeowners. Windows, doors, and facades made of this high-quality material offer a high degree of flexibility in terms of shape and color and can be easily integrated into the most diverse building architectures. The visual and tactile qualities of aluminum are virtually unlimited, as countless color and structural effects can be achieved using classic powder coating or anodizing techniques. In this article, we will introduce the benefits of PE protective film for aluminum profiles.
A protective film for any requirement
The NB series offers a wide range of protective film solutions perfectly suited to the specific requirements of metal and window constructions. They provide protection and ensure efficient processing, preventing cost-intensive rework by reducing scrap and reject rates.
The product range for the protection of anodized and powder-coated aluminum profiles includes solutions for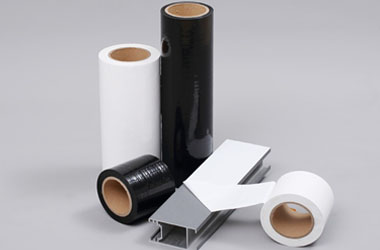 Protective Film for Aluminium Profiles and Plates
1. Smooth and structured surfaces
Modern contemporary finishes, e.g. particularly roughly structured effects or deep matte surfaces
High-performance protective films for almost any surface structure and profile construction Printed protective films are also available on request. High-performance protective films for almost any surface structure and profile construction. Printed protective films are also available upon request.
2. Preventing scratches and damage
Quality is compromised throughout the entire process chain from the metal fabrication shop to the completion of a construction project. Aluminum surfaces are subjected to heavy loads, especially during the manufacturing process. Hard, sharp chips from sawing or drilling aluminum can damage the profile's high-quality coating. Surfaces can be scratched and scrap produced. Therefore, quality assurance and optimal protection of the finished surface play an important role for metal manufacturers and window fabricators.

Self Adhesive Protective Film For Aluminum Profiles And Plates
3. Optimal performance in applications
Protective films are available in a variety of film widths for the precise protection of a wide range of aluminum structures. In addition, the carrier film and adhesive systems are precisely designed to cover every application method. These should be fully automated applicators, handheld applicators, or even simple manual applications; guaranteeing optimal application and quality assurance.
4. High elasticity throughout processing
NB's protective films are ideally suited to protect aluminum structures used in architectural applications. Such profiles are often larger and stronger than PVC systems, which places high demands on protective films when used for such strong structures. For this reason, NB protective films for aluminum profiles are particularly strong and tear-resistant. These films can even resist high mechanical loads. They have excellent puncture and shear resistance and can be processed without tearing.
As a protection film manufacturer, we take great pride in being able to provide you with the personalized protective film turnkey solution with our experienced R&D team and advanced facilities. If you want to get more information about the metal surface protection film, welcome to contact us.