Names like surface protection film say it all - it's designed to protect critical surfaces from scratches, scuffs, abrasions, UV exposure or dust, and contamination. Popular and successful because of its strength and durability, the protective film tape is actually tape. It is made from layers of film bonded together to form a barrier that can protect anything from the glass of a building to any other object that requires construction protection. It is, for example, the shrink-wrapped plastic applied to new refrigerators and is used to cover and protect rolls of material on the surfaces of manufactured parts, particularly in the automotive industry. And the surface protection film has been widely used by manufacturers of metal and plastic sheets. They are also scratch-resistant and help to reduce the penetration of sunlight and UV rays.
How does protective film protect the surface of an item?
Tapes and films for surface protection are extremely versatile and are used by many industries, including medical, aerospace, electronics, manufacturers of steel and aluminum, acrylic and Polycarbonate-coated plastics, graphic arts, and woodworking. Protective tapes for metal come with a low to medium tack adhesive which ensures that no residue is left behind when removed.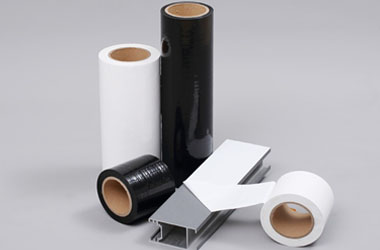 Type of Protective films
Protective films can be used for permanent or temporary applications on solid surfaces. There are two types of protective films, permanent surface protection films, and temporary surface protection films. The substrates involved can be lacquered panels, plastics, glass, laminates, and reflective aluminum. They can be applied by machine or manually and are available in a variety of widths to suit your application. The high transparency makes this product suitable for the protection of critical surfaces where a high aesthetic appearance is required.
Protective film for aluminium profiles and plates is proudly and uniquely possessed of top-notch adhesion strength, tensile strength, and elongation. They are quite easy to apply to the surface and peel off from the surface by hands.
Low tack film: pre-masking for medium to large vinyl graphics.
Medium tack film: the best choice for most sign shop applications.
Medium tack and easy-peel films: designed to simplify applications.
High tack film: best for small vinyl graphics and text.
Choosing the right protective film for your needs
To properly select the right protective film for your needs, you should consider the following factors.
Long life
Installing a cheap surface protection tape will deteriorate within a few months, which can be counterproductive. Instead, buy a high-quality branded film that offers durability.
This brings us perfectly to our next point.
Warranty policy
Make sure you invest in a product with good customer service and warranty offers. This is useful for equipment that you are likely to use for a long time, such as cars.
Quality
Now that you know the role that materials play in determining quality, make sure you ask questions about your protective film. At the very least, you should be able to get PPF that meets all the basic requirements, which are scratch resistance, abrasion resistance, and UV protection.
Of course, quality may also depend on your budget, but on the whole, it is not very difficult to obtain high quality at a reasonable price.
The above information is provided by the PE protective film manufacturer. Welcome to contact us.