When you think of surface protection, you usually think of floors, countertops, and stairs. However, glass protection is just as important. Windows are fragile and can be expensive to replace if they are broken, scratched, or soiled. When preparing a job site, take the time to prepare and protect all potentially damaged surfaces, including windows!
4 Types of window protection for any job site
When exploring the wide variety of window protection options, it's important to consider what your job requires. Do you need scratch or impact protection? Paint or overspray protection? You may even need something like a window tint that prevents UV light from coming through.
Before choosing your surface protection film, take the time to research some options based on your needs.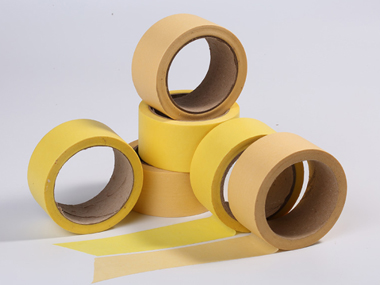 Masking Tapes
1. Pre-Taped Masking Film
Pre-taped masking film is a staple in the construction and painting industry. This protective film is often used in conjunction with hand masking for ease of application and can be applied to the top frame of a window. Once the tape is applied, the masking film is simply unfolded to provide complete coverage. The cling film prevents overspray and paints dripping.
2. Pressure-sensitive surface film
The self-adhesive film is designed to eliminate the need for additional adhesives, making it an excellent product for a variety of surfaces, including windows. The film is designed with a pressure-sensitive adhesive backing that provides paint protection and some impact resistance. It's easy to apply and remove, leaving no adhesive behind! However, for best results, we recommend not applying it to windows in direct sunlight.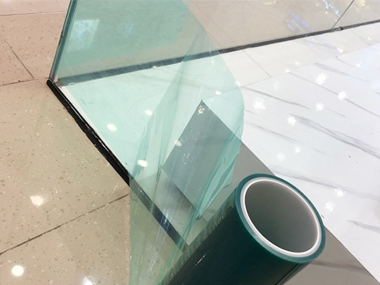 Protective Film for Glass


3. Adhesive Window Film
Window adhesive film is one of the easiest and most durable options available. This easy-to-apply film adheres to most glass surfaces, including windows, glass doors, and shower doors. It protects against scratches, stains, and harmful UV rays. An added bonus, this protection film leaves no sticky residue if removed within 30-60 days (depending on the type of protection film you have)!
4. Tapeless Static Cling Film
Looking for an option that is adhesive-free, lightweight, and stays put? Static cling film is the product for you! No need to tape this protective film down, it can be applied to almost any surface, including smooth glass windows, but still allows some natural light to enter.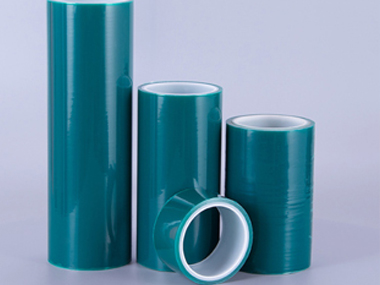 Protective Film for Glasses and Mirrors


Window Film Application Tips
Window film is an essential surface protector for most jobs, so we've compiled some tips to help you!
When preparing to apply the window film product of your choice, it is important to clean your surface prior to application. This will ensure that the adhesive adheres properly and lasts the duration of the job.
Move from the top to the bottom of the window for an easier and faster application process.
The window films listed above do not leave a residue, but each surface is different. We recommend testing any adhesive film or tape in an inconspicuous space prior to application to avoid damage.
Adhere to product schedules. Most window films will remain on the surface for 30-60 days. But please check the fine print to make sure!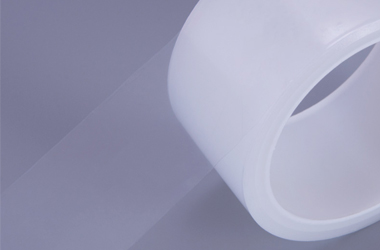 Protective Films
Where to buy protective films?
At NB, we focus first and foremost on meeting the needs of our customers. This means offering a large variety of quality products at great prices. Our protective films have been widely applied to the deep-drawing process, electronic devices, household appliances, aluminum profiles and sheets, windows and doors stainless steel sheets, and plastic sheets. carpets, marbles, glasses, etc.
We take great pride in being able to provide you with the personalized protective film turnkey solution with our experienced R&D team and advanced facilities. If you want to get more information about the best protective films wholesale price, welcome to contact us.