Introduction:

Excitement is brewing as we announce our participation in the highly anticipated Canton Fair 2023 Autumn. Guangdong NB Technology Co., Ltd., a stalwart in the protective film manufacturing industry, is set to dazzle attendees with its innovative range of products and unwavering commitment to quality. Since 2010, "Quality is our culture" has been our guiding principle, and we're eager to showcase the results of a decade of dedication.
About the Canton Fair 2023 Autumn:
The Canton Fair, officially known as the China Import and Export Fair, is a globally acclaimed trade exhibition held biannually in Guangzhou, China. With a rich history dating back to 1957, it has evolved into one of the most prominent events in the international business calendar. The Canton Fair serves as a dynamic platform where businesses from around the world converge to showcase their products, engage with potential partners and buyers, and foster mutually beneficial trade relationships. As the 2023 Autumn edition approaches, it promises to be a vibrant hub of innovation and commerce.
Company Overview:
Based in Foshan city, Guangdong province, China, Guangdong NB Technology Co., Ltd. is a renowned protective film manufacturer with a deep-rooted commitment to excellence. We take immense pride in our ISO9001: 2008 quality management system certification and ISO 14001: 2004 environmental certification, demonstrating our dedication to both product quality and environmental responsibility.
Spanning an impressive 12,000 square meters, our state-of-the-art production base houses a well-equipped R&D laboratory staffed by over 15 dedicated researchers. With six automatic production lines, we boast an annual production capacity exceeding 20,000 tons. Moreover, we extend the option for OEM/ODM services, ensuring our offerings align seamlessly with your unique requirements.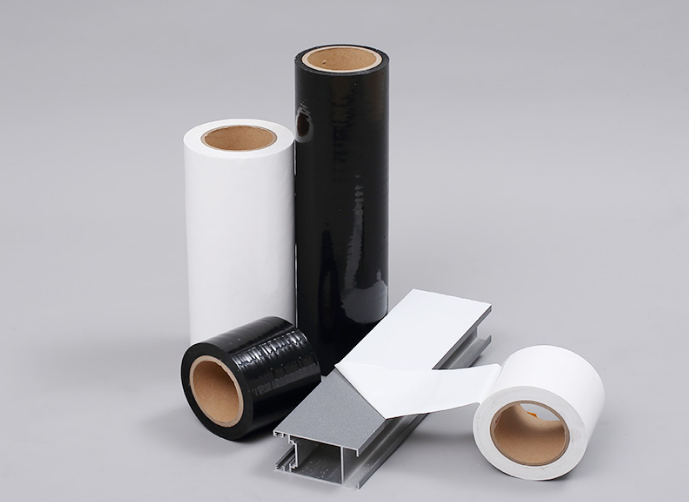 Product Excellence:
At Guangdong NB Technology Co., Ltd., our relentless pursuit of innovation and product excellence is at the core of our operations. We continually invest in cutting-edge production equipment to ensure not only consistent product quality but also swift delivery times.
Our protective films find versatile applications across various industries, including:
1. Deep-drawing Process: Safeguarding delicate surfaces during manufacturing.
2. Electronic Devices: Ensuring the protection of sensitive components.
3. Household Appliances: Preserving the flawless finish of appliances.
4. Aluminum Profiles and Sheets: Shielding aluminum materials from damage.
5. Windows and Doors: Preventing scratches and damage during handling.
6. Stainless Steel Sheets: Maintaining the integrity of stainless steel surfaces.
7. Plastic Sheets: Providing protective barriers for plastic materials.
8. Carpets: Safeguarding carpets from dirt and stains during installation and transport.
9. Marbles and Glasses: Preserving the pristine appearance of high-end finishes.
With our experienced R&D team and cutting-edge facilities, we take immense pride in offering personalized protective film solutions tailored to your specific needs. It's not just about providing protective films; it's about delivering comprehensive, customized solutions that meet the unique demands of our valued customers.
Visit Us at Canton Fair 2023 Autumn
For a firsthand experience and in-depth information about our product offerings, we cordially invite you to meet us at Canton Fair 2023 Autumn. Our team will be delighted to engage with you and address your inquiries.
For additional details about our participation, please refer to the images below: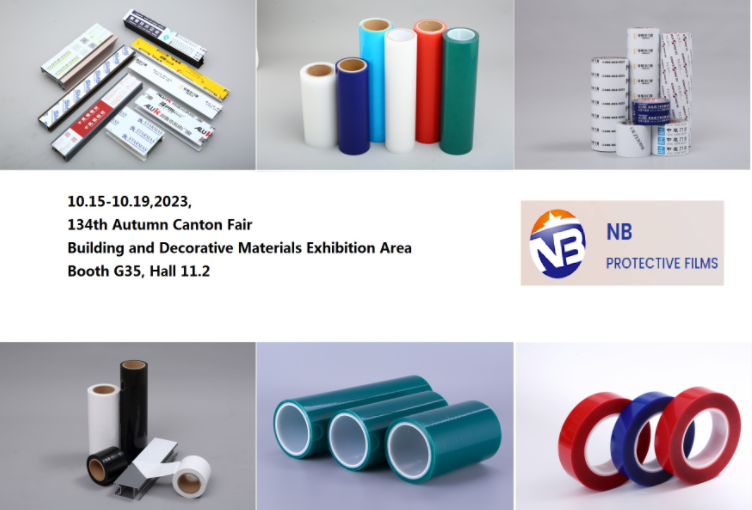 Conclusion:
As Canton Fair 2023 Autumn approaches, we at Guangdong NB Technology Co., Ltd. are excited to unveil our latest innovations in protective films. A decade of unwavering dedication to quality, innovation, and environmental responsibility has brought us to this moment. We invite you to explore the future of protective film technology with us and discover why "Quality is our culture" is more than just a slogan—it's a promise we live by.
Don't miss the opportunity to witness our cutting-edge protective films and personalized solutions at the Canton Fair 2023 Autumn. Join us on this journey of excellence, where quality knows no compromise.
Join us in this exciting journey to explore the future of Protective Films in Guangzhou: https://www.nbprotectivefilm.com/contact-us/