Even if you haven't used protective films in your own applications before, you're probably familiar with their presence in many of the products you buy every day. By now, you may actually expect to find protective films on every new i-Something, plastics parts, glasses, computer monitor, carpet, stainless steel sheets, or major device you purchase. It's likely that your customers expect to find the magic PE protective film on your products as well.
What is PE protective film?
PE, full name polyethylene, is the simplest molecular structure of organic compounds and is the most widely used polymer material in the world. It is a non-toxic and pollution-free green environmental protection product. PE protective film is made of special polyethylene (PE) plastic film as the substrate, coated with pressure-sensitive adhesive. Professional protective film manufacturers will customize and make different protective films based on the roughness of the customer's product surface, including the use of adhesive. We have water-based adhesives, solvent-based adhesive, and rubber based-adhesive.
The biggest advantage of PE protective film is that the protected product is not contaminated, corroded, scratched during the production, processing, transportation, storage, and use, and protects the original smooth and shiny surface, thereby improving product quality and market competitiveness.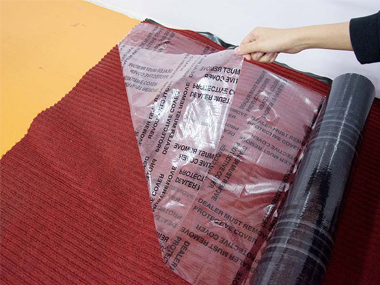 PE Protective Film for Carpet
Applications of PE protective film
PE protective film for plastics
Plastics are widely used in both industry and home usage. To keep plastics surfaces safe, from manufacturing to customer's hands, carefully dealing with is important. Contaminants, industrial solvents, scratches, and paint pollution can devaluing the product and add to your cost. That's why NB's protective film seems necessary. Our protective film can customize your special need in order to protect your products and save your value. In specific, the assembly of home appliances and electronic devices can largely save labor resources and profit value with temporary protective film in the whole process.
PE protective film for carpet
Glue residues cause inconvenience to customers' lives. It would also damage her floor surface. So why not use carpet film on other floors?
Because the surface of the carpet is relatively rough, the surface of wooden floors, marble, floor tiles, etc. is relatively smooth. Depending on the degree of roughness, the adhesive of the protective film will vary. The adhesive of carpet protective film is higher than that of smooth floor protective film.
Because we have a more professional technical level, we can make a good quality carpet film. At the same time, we can guarantee that under high viscosity, no glue will remain.
Tip: If you encounter a situation similar to our customers, is there any way to remove the glue left on the floor? You can use some alcohol to wipe.
However, alcohol may cause damage to the floor surface. So the most important thing is to use the right PE protective film for carpets. We assure you that we will be accountable to our customers. Help you choose the right protective film.
Guangdong NB Technology co., Ltd. is a long-standing protective film manufacturer, China. We have been able to obtain IsO9001: 2008 quality management system certification and Iso14001: 2004 environmental certification. If you want to know more information about pe self-adhesive protective film for sale, welcome to contact us today or request a quote.